2 februari 2022
English below
Olga groeit nu zienderogen, samen met haar eetlust.
Ze denkt dat rennen nog even snel kan en ook dat ze nog even snel door de deur kan glippen. Helaas, niks is minder waar 🙂
Op dag 39 meten de pupjes ongeveer 6cm, de hartjes kloppen allemaal en eigenlijk zijn ze helemaal klaar. Je ziet alle orgaantjes al en je kan al goed het hoofdje met oogjes en mondje herkennen. Ze gaan ook flink tekeer binnenin Olga haar buik. Nu moeten ze alleen nog groeien!
Wat een wonder is dit toch steeds!
Op dag 46 kunnen we de kleintjes niet meer mooi in beeld krijgen, daar zijn ze nu echt te groot voor. Ze meten ongeveer 10 à 12cm, maar ook dit is moeilijker te bepalen. Olga weegt nu 19.5kg. Als we dat vergelijken met 21 kg op dag 53 vorige keer, lijkt het alsof we dezelfde richting op stevenen. Wat zijn we benieuwd naar het aantal pups en nog meer naar de pupjes zelf.
Zal alles goed verlopen? Gaan de pupjes gezond zijn? Zullen al die ongeduldige mensen straks blij gemaakt kunnen worden?
Volgende week staat de RX foto op de planning, dan weten we alweer iets meer…
Olga is growing rapidly now, along with her appetite.
She thinks she can run just as fast as normal and also that she can slip through the door just as quickly. Unfortunately, nothing could be further from the truth :).
On day 39, the puppies measure about 6cm, the hearts are beating and they are actually all ready. You can see all the organs and you can recognize the head with eyes and mouth. They are also going strong inside Olga's belly. Now they only have to grow!
What a miracle this is!
On day 46 we can't get a good picture of the little ones anymore, they are really too big for that now. They measure about 10 to 12cm, but this also is more difficult to determine.
She weighs 19.5kg on day 46. If we compare that to 21kg on day 53 last time, it looks like we are heading in the same direction. We are very curious about the number of puppies and even more about the puppies themselves.
Will everything go well? Will the puppies be healthy? Will all those impatient people be made happy?
Next week the X-ray is scheduled, then we will know more…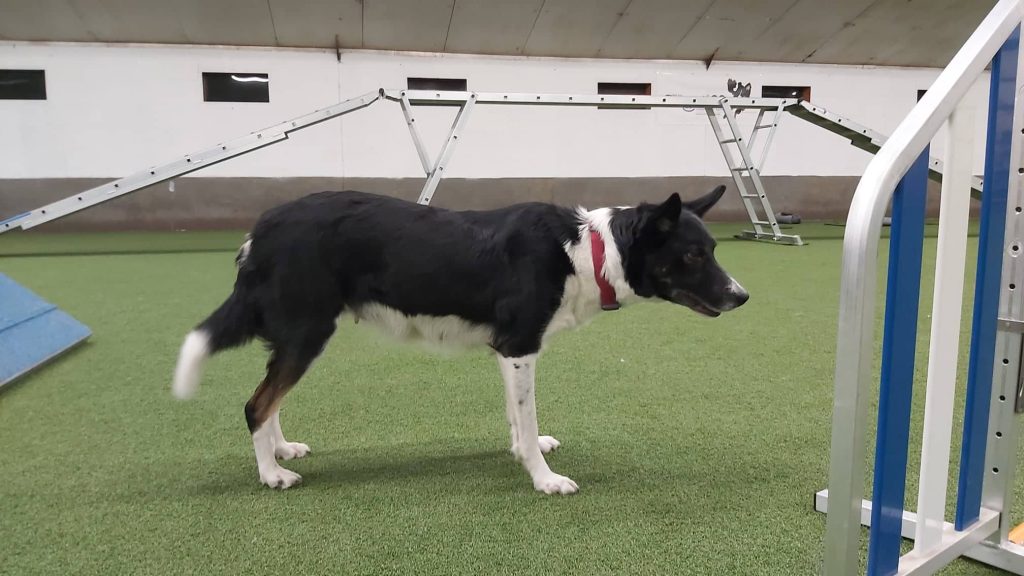 day 39: this little puppy lays with his head down, he opens his mouth. This puppy is around 6cm.